Red River High School
Class Of 1979
In Memory
Mike Obregon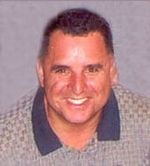 Michael Roy "Obie" Obregon, 47, Burnsville, MN formerly of Grand Forks, ND passed away peacefully on August 21, 2008, after a courageous battle with cancer.
Michael is survived by his loving wife, Annie; children, Sean and Nicole; parents, Raymond (Kaye) Obregon and Carol (Dave) Roy-Bies; brothers, Curtis (Heidi) Obregon and Peter (Cindy) Obregon; sister, Kim Lasse.
He was preceded in death by a brother, Matthew; grandparents, John and Amalia Obregon, Lawrence and Mayme Roy.
Mass of Christian Burial: Monday, August 25, 2008 in Mary, Mother of The Catholic Church, 3333 Cliff Rd., Burnsville, MN.
Visitation: One hour before the liturgy in the church on Monday.
Memorials: To the Michael Obregon Fund c/o US Bank, 301 W. Burnsville Pkwy, Burnsville, MN 55337.